Destinations - Grandes Rousses

on this page
...
About the Resort
Sleep Grandes Rousses
Drink Grandes Rousses
Play Grandes Rousses
Getting to Grandes Rousses
Practical Guide
related pages ...
Booking
All Inclusive Packages
Grandes Rousses Photo Gallery
About the Resort
GRANDES ROUSSES - Alpes d'Huez
AN ASTONISHING SKI AREA
The Grandes Rousses ski area links Alpe d'Huez and five resorts that, nestling among the fir forests, have preserved the charm of traditional mountain villages:Auris-en-Oisans, La Garde, Oz-en-Oisans,Vaujany and Villard-Reculas. It dominates two picturesque mountain towns: Allemont and Bourg d'Oisans.
GRANDES ROUSSES IN FIGURES
• 10,000 ha, 800 for alpine skiing
• 2230 m of vertical drop (from 3330 m at the top
of Pic Blanc to 1100 m at the Enversin d'Oz)
• 84 ski lifts:
6 cable cars
10 gondola lifts
24 chair lifts
41 ski tows
3 lifts and travelator
• 248 km of pistes
• 123 marked pistes:
39 green
31 blue
36 red
17 black
• 1 night skiing piste
• 2 snowparks:
1 for beginners
1 for experts
• 1 boardercross
• 1 half-pipe
• 2 special areas exclusively for beginners
• 785 snow making machines for snow coverage
• 26 ratracks for piste maintenance
• 300 days of sunshine per year
(in average, source national metorological office)
up to 7 1/2 hours of sun in December
up to 11 hours of sun in April
• 1/5th of France you can see from Pic Blanc
on a fine day
ALPE D'HUEZ, FIRST 8000
Unique in France: legendary descents, about 2000 m,
down in one go, no need to get a ski lift! Over
8000 m of vertical drop!
• Le Pic Blanc 3330 m - La Villette 1295 m
• Le Pic Blanc 3330 m - L'Enversin d'Oz 1125 m
• Le Pic Blanc 3330 m - Oz-en-Oisans 1340 m
• Le Pic Blanc 3330 m - Gorges de Sarenne 1510 m
GRANDES ROUSSES - Auris-en-Oisans

The resort is ski in, ski out, lots of sunshine and on the edge of a pine forest tat height of 1600 m. Auris has guaranteed snow all due to the Alpes d'Huez / Auris ski area with 245 kms of pistes, 87 lifts and more than 700 snow canons.
Advantages :
• Family style resort
• More than 245 km of secured slopes
• Pic Blanc (3330 m) and Sarenne glacier access from 20 minuts by ski!
• Sarenne slope: the longest slope of the world: 16 kilometers of non-stop downhill!
• Facing the Deux Alpes resort, Auris is the perfect place to offer you more than 480 kilometers of slopes.
• 118 slopes
• 69 lifts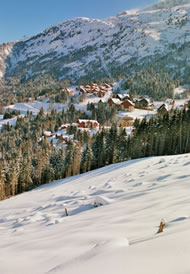 GRANDES ROUSSES - Oz-en-Oisans
Oz-en- Oisans is a picturesque mountain resort
It is the closest ski resort in the Oisans region to Grenoble and the easiest to reach. Once you get there, everything is easy because you're right at the foot of the ski run! Oz-en-Oisans combines the ingredients for a real holiday: calm, fun and hassle free.
The vast ski area climbs from 1100 m up to 3300 m, with a variety of runs suitable for every level. If you want to get away, relax, enjoy yourselves, come to Oz-en-Oisans with family and friends where you will have a great holiday.
At Oz-en-Oisans there are different ways to enjoy the winter: skiing, snowboarding, snowskating, iceskating,… each to their own level and own sport.
Oz -en-Oisans is a ski resort that is particularly adapted to families. The resort centre is fully pedestrian so children can play more and parents worry less!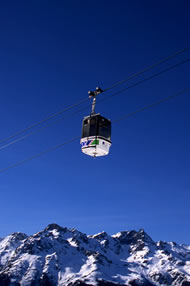 GRANDES ROUSSES - Vaujany
Vaujany is situated at 1250 m altitude opposite the stunning 'Grandes Rousses' range. Be seduced by this authentic mountain village. Walk down its little roads and explore the wealth of its architectural heritage.
Vaujany, which beautifully combines tradition and the modern age, boasts the best facilities for skiing or ice-skating, or just enjoy a walk through this amazing scenery, taking in the beauty and serenity of its untouched nature…
Skiing for all, whether young or old, from beginners' level to advanced, from relaxing to a very sporty, over 250 km of runs offer you a range of possibilities. And the most courageous ones can also spend a day in the snow-park of Montfrais… Skiing for the whole family or with friends, more skiing for more fun!
Thanks to the cable-car, you can go from 1250m up to 2800m and access the Pic Blanc which culminates at 3330m. From there you can admire the most beautiful peaks of the Mont Blanc, the Grand Paradis, La Meije and Les Ecrins.
Go down the 2230m of difference in height from the 'Grandes Rousses' ski area via the black and red runs in a landscape of your dreams amongst beautiful fur trees.
GRANDES ROUSSES - Villard-Reculas
Villard-Reculas is an authentic mountain village in the valley of the waters d'Olle in the heart of the Oisans Mountains, and at the gateway to the skiing domain of the Grandes Rousses.
Facing due south, with views over the town of Bourg d'Oisans and the Romanche Valley, it has skilfully combined tourism with respect for the environment.
Situated at 1500 metres with a south orientation and facing the town of Bourg d'Oisans and the Romanche valley, Villard-Reculas is an authentic mountain offering exceptional panorama of the high peaks of the Oisan Mountain.

top
Sleep Grandes Rousses
HOTELS
Prices for full and half-board are per person and per night based on double occupancy. Supplement for single room. Room prices are for 1 or 2 persons, per night, and do not include breakfast.


Au Chamois d'or **** Hotel

This 'hotel-chalet' is located at the highest point of the resort, right on the ski slopes and entirely redecorated during the year 1999. A unique location, at the very top of the resort .. at the meeting point of the main slopes and lifts, allowing you to reach the entire massif of the Grandes Rousses .. Close to the ski schools for adults as well as children .. Close slalom stadium / ski by night area / snowpark .. it will allow you to reach the hotel by ski whatever the snow condition.
Le Dome *** Hotel

The Dome is a 3 star hotel, well situated near the departure of the ski runs in a very calm environment. Also located at 5mn of the middle of the station, the ice rink, the outdoor swimming pool and the sport and congress hall. At the foot of the hotel you can find a shopping arcade with a ski rental shop, a bank, a newsagent and a grocery.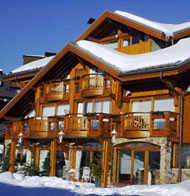 Le Printemps de Juliette *** Hotel

A doll house with 8 rooms and suites, equipped with chimneys and private jacuzzis in your bathroom, overlooking a breathtaking panorama from your wooden balcony...
Located in the very heart of the village, next to all shops, just a few steps from the outdoor ice-skating surface and olympic swimming pool, our hotel is the perfect place to enjoy the best of Alpe d'Huez !
The ski slopes are at your feet (a few meters away)... When coming back from a "hard day" just enjoy a great chimney fire while sipping a hot creamy chocolate or a Vin Chaud and greadily eating home-made pancakes!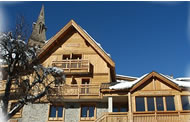 L'Ancolie **

This hotel, lately renovated, is located at the heart of the village of Hoot, with a direct access to the station of Alpe d' Huez (telpher carrier with 200m), and a splendid panorama offers to you on the solid mass of Oisans.
Alp'Azur **

Located in the center town of Alpe d'Huez, 50 meters from the swimming pool and the skating rink, our hotel ** offers our visitors 22 rooms. There are a bar, a restaurant and a panoramic terrace facing the mountains.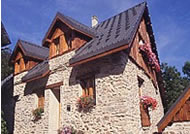 Gite Florineige

Lodging Florineige - Traditional and typic house, in Alpes village at 1450 m altitude mountain environment.
Confortable accommodation in five rooms for 2 to 4 people. Forestier family organises mountain activities all year...

Pearl Apartments ****

One hundred meters to ski tow, the French ski school (in the area of Les Bergers), in front of the sports stadiums ( covered swimming pool, indoor tennis, squash, rock climbing, gymnastic club,cinema…), near shops, swimming pool, skating ring.

CHALET MERISIER

This chalet offers you a luxury comfort with all the equipment necessary. It is composed of 13 single bed, 1 double room, 5 bathrooms, 1 jacuzzi-sauna, a chimney, a bar, 6 rooms have a DVD player.

LE CHAIX

This hotel club is located near the pistes. You will have the choice between rooms of 2, 3 or 4 beds. All rooms have a bathroom WC and a phone.

CHALET LA MAITREYA (Vaujany)

Authenticity and pure nature! The totally renovated and cosily decorated Chalet "La Maitreya" is situated in the heart of the French Alps just outside the picturesque mountain village Vaujany.
Over a mojito and tapas one can enjoy a beautiful sunset and Mother Nature at her best. It enables you to forget all problems of everyday life.

Catered Chalet in Vaujany / Alpe d'Huez
CHALET SOLNEIGE ( Vaujany/Alpe d'Huez)

For your ' home away from home' feeling. Chalet Solneige ( dating back to 1891) offers you 6 comfortable rooms with their own en- suite facilities & balcony with breathtaking views over the Alpes.

Self Catering in Oz-en-Oisans


In winter or in summer, come and enjoy the magic of the mountains in Oz en Oisans... Here, you choose the rhythm that suits you !
LE CHALET DES NEIGES (Oz-en-Oisans)

LE CHALET DES NEIGES is an original design, built in stone and wood. The furnished apartments are luxurious with open logfires (from 6/8 persons Luxe and upper only) and fully equipped kitchens.
COULEURS SOLEIL (Oz-en-Oisans)

In the heart of the Oz en Oisans ski resort you will find the "Couleurs Soleil" residence which harmoniously combines traditional, noble materials of Oisans: wood and stone.


top
Drink Grandes Rousses
Bars
After a long day's skiing, enjoy a drink in these different bars!
O'Sharkeys
Freeride
Smithies
Crowded House
The Pacific bar
Zoo
Sphere Cafe Bar

top
Play Grandes Rousses
Activities in Grandes Rousses include:
• Extensive Snow & Slide Sports
• Walking, Cross-Country Skiing, Snowshoeing
• Ice Climbing
• Sport & Convention Center Activites
• Ice Skating
• Swiming
• Relaxation & Leisure
• Aerial Sports (including Microlight, Hang-Gliding etc.)
• Quad Biking
• Ice Driving
• Night-Sledding and Night-Skiing
• Cultural Activites
... and much, much more



top

Getting to Grandes Rousses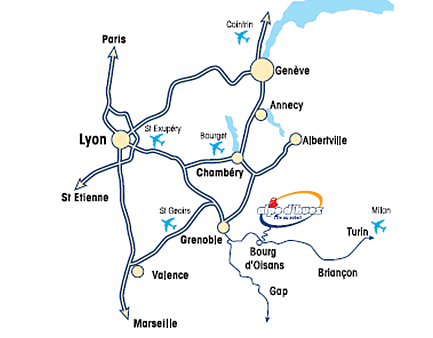 BY CAR
• Paris-Alpe d'Huez 620 km (6h30)
Marseille-Alpe d'Huez 300 km (4h)
Lyon-Alpe d'Huez 163 km (2h15)
Grenoble- Alpe d'Huez 63 km (1h15)
Geneve-Alpe d'Huez 208 km (2h40)
• Follow the motorway to Grenoble, then get on the A480 motorway and follow signs for Sisteron, Gap. Take exit No8 Gap, Briancon, Vizille/Stations de l'Oisans which joins the RN85, then the RN91 to Bourg
d'Oisans, then the RD211.
• Information on traffic conditions, main roadworks and mountain pass access:
Etat des Routes 33 (0)826 02 20 22
Info Routes 33 (0)8 92 69 1977
DDE de l'Isere 33 (0)4 76 70 76 70
BY TRAIN
• Nearest railway station: Grenoble (63 km)
TGV Paris-Grenoble : 2h55
Reservation SNCF 36 35
From abroad 33 (0)892 35 35 35
From France, explanation in english 0892 35 35 39
www.sncf.com
• Connection from Grenoble coach station (next to the train station) to Alpe d'Huez (daily services, about 1 hour 30).
VFD/Trans' Isere 0820 833 833
From abroad 33 (0)4 76 60 46 80
www.vfd.fr
• Coach services between major European cities and Grenoble coach station:
Intercars 33 (0)4 76 46 19 77
www.intercars.fr
Eurolines 33 (0)892 89 90 91
www.eurolines.fr
BY PLANE
• Alpe d'Huez/Altiport Henri Giraud N3
Tel. 33 (0)4 76 11 21 73
Flights to anywhere, by aeroplane and helicopter.
Helicoptere SAF/Heli SAF Levage 33 (0)4 76 80 65 49
saf.huez@saf- helico.com - www.saf- helico.com
• Grenoble/Isere (99 km)
Tel. 33 (0)4 76 65 48 48 - www.grenoble.aeroport.fr
Coach service to Grenoble coach station:
Voyages Monnet 33 (0)4 76 93 40 00
www.voyages- monnet.com
Then coach service to Alpe d'Huez (about 1 hour 30):
VFD/Trans'Isere 0820 833 833
From abroad 33 (0)4 76 60 46 80
www.vfd.fr
• Chambery-Savoie (125 km)
Tel. 33 (0)4 79 54 49 66 - www.chambery.aeroport.fr
Coach service to Chambery coach station:
Trans'savoie 33 (0)4 79 68 32 90
www.altibus.com
From Chambery to Grenoble by rail:
Reservation SNCF 36 35
www.sncf.com
• Lyon/Saint-Exupery (150 km)
Tel. 33 (0)826 800 826
Return ticket 48 €
Coach service to Alpe d'Huez (about 3 hours, booking essential):
Satobus 0 820 320 368
From abroad 33 (0)4 79 68 32 96
Reservation : www.satobus-alps.com
Renseignements : satobus-alps@altibus.com
• Geneve Cointrin (220 km)
Tel. 00 41 22 717 71 11
www.gva.ch
French Side: 00 41 22 798 2000
Return ticket 100 €
Coach service to Grenoble city centre (3 hours):
Trans' managers 33 (0)4 38 02 13 33
transmanagers@wanadoo.fr
Coach service from Geneva coach station to Grenoble:
VFD/Trans' Isere 0820 833 833
From abroad 33 (0)4 76 60 46 80
www.vfd.fr
Train Geneve-Grenoble (about 1 hour 30):
Reservation SNCF 36 35
www.sncf.com
Prices and travel times given here are estimates. Weather and road conditions may influence travel time.
BY TAXI
• Agence S. Chalvin 33 (0)4 76 80 38 38
taxi-chalvin@wanadoo.fr
• F. Duclot (Auris-en-Oisans) 33 (0)4 76 80 20 81



top
Practical Guide
Over 350 instructors teach their sport in Grandes Rousses.
350 instructors speaking French, English, Italian, Dutch, Spanish, Japanese, Danish, German, Portuguese, Russian, Polish and Hebrew ...

top