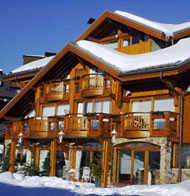 A doll house with 8 rooms and suites, equipped with chimneys and private jacuzzis in your bathroom, overlooking a breathtaking panorama from your wooden balcony...
Located in the very heart of the village, next to all shops, just a few steps from the outdoor ice-skating surface and olympic swimming pool, our hotel is the perfect place to enjoy the best of Alpe d'Huez !
The ski slopes are at your feet (a few meters away)...
When coming back from a "hard day" just enjoy a great chimney fire while sipping a hot creamy chocolate or a Vin Chaud and greadily eating home-made pancakes!
The "non-skieurs" will also enjoy our "high tea" with music... high dancing in the middle of the afternoon !
TEA ROOM AND RESTAURANT
The Tea Room and restaurant is open to everybody who like good food and good life ! Will you stay outside the hotel, you are most welcome!
ROOMS
You will be welcomed in one of our 8 rooms and suites are all equipped with private chimneys, private jaccuzi the bathroom.
They are equipped with satellite TV, radio, direct telephone, some of them are equipped with video.
They all have a wooden balconey overlooking the breathtaking view over the mountains and the village
RATES
N.B. All prices are Sunshine World Ltd's own prices and we reserve the right to change them at any time
Room categories
low season
middle season
high season
"South" Standard Room
Balcony, Moutain view,
jaccuzi, TV,

Half-board £105*
full board £125*
Room** £130*

Half-board £115*
full board £135*
Room** £145*

Half-board £120*
full board £140*
Room** £160*

"South" Classic Room
Balconey, Moutain view,
jaccuzi, TV,
with or without Chimney

Half-board £120*
full board £140*
Room** £150*

Half board £130*
Full board £150*
Room** £160*

Half board £140*
Full board £150*
Room** £180*

"South" Junior Suite
Balconey, Moutain view,
jaccuzi, TV,
with or without Chimney

Half board £155*
Full board £175*
Room** £210*

Half board £160*
Full board £185*
Room** £230*

Half board £175*
Full board £190*
Room** £250*

"South" Suite Apartment
Balconey, Moutain view,
jaccuzi, TV, with Chimney

4/5 persons: £250* per night
4/5 persons: £300* per night
4/5 persons: £390* per night
Child less than 2 years
half board
in parents' room

£60*
£70*
£80*
Child from 2 to 10
half-board
in parents' room

-50%
-30%
-30%
All prices in Euros, per day and per person in a double room.
Additional bed in same room: £50* per night
" Room**" rate mean room only, for 2 persons, without dining.
Buffet breakfast supplement: £15* per day and per person
Closed garage: £11* per car and per night
Local tax: £0.80* per day and per person

* All prices are Sunshine World Ltd's own prices and we reserve the right to change them at any time