Leaving Les Menuires or Saint Martin de Belleville to Travel all over the 3 Vallees ski area means going from one magnificent panorama to another, discovering majestic peaks and continually changing horizons and being drawn towards infinite open spaces. This is where the purity of white rivals the depth of blue, where the sky and the earth move apart so as to join up even better.
On this Page:
Ski Area
Walking Snowshoe Outings
Lugeland
Snowpark/Half-pipe
Walks on Foot or with Snowshoes
Paragliding
Buggy on Snow
Snow Mobil
Cross Country Skiing
Ice Rink
Cultural Activities
Other Activities
Sports Centre
Sports & Leisure
Aquaclub Spa
Fitness & Well-being


Ski Area
Connected ski area : Les 3 Vallees - 600 km of pistes, 200 ski lifts
Main attractions
Huge diversified ski area suitable for all levels
Well-exposed ski area allowing skiers to ski in the sun throughout the day
Artificial Snow
405 snow makers in Les Menuires/Saint Martin de Belleville Ski area, 1500 in Les 3 Vallees Percentage of pistes covered by artifical snow in Les Menuires/Saint Martin de Belleville : 45 %
Les Menuires & Saint Martin de Belleville ski area
• 71 pistes: 7 black, 29 red, 30 blue, 5 green
• 160 km of alpine skiing slopes,
• 28 km of Nordic skiing trails - free of charge
• Les Menuires' altitude: 1815 m / 5954 ft - Saint Martin de Belleville's altitude: 1450 m
• Top of the slopes: 2850 m - Back of the slopes: 1450 m
Slopes facilities
• 1 snowpark with boardercross and halfpipe
• 1 snowcross
• 1 tobogganing area
• 1 beginner's village
• 2 children's villages
• 28 km of pedestrian paths
• 4 km long path for snow shoe outings
For beginners
5 free ski lifts, including 3 moving carpets are available for beginners and are situated near the residences in the different quarters of the resort. To move from the carpet to the snow it only takes a small step. It's new, easy, fun and free! In addition, parents can play with their children even without skis.
The French Ski School has created a closed, safe area for adult and child beginners in the centre of Les Menuires at La Croisette so that beginners can ski in complete safety.

* All prices are in £ UK. All prices are Sunshine World Ltd's own prices and we reserve the right to change them at any time.

top

Walking Snowshoe Outings
Tourists especially appreciate the traditional stone houses and villages. After the paths Sentier Balcon, Praranger- Les Granges and the Promenade du Doron, comes the Sentier de l'Oratoire, created in 1999. It links the villages of Les Granges and Saint Marcel. Like the other paths, it is cleared of snow and maintained by the Town Council. A track links the summit of Le Mont de la Chambre and the centre of the resort. The departure at the top can be reached by Les Bruyeres cable car (purchase of a pedestrian ticket is necessary). Snow scooters and sleigh dog rides possible.

top


Lugeland
Young and old, on huge rubber rings, slide down the two 200m long pistes, protected by barriers. The pistes are situated in a specially created area. After the joys of the descent, you go up on your rubber ring toboggan on a moving carpet : hoots of laughter guaranteed .... An alternative snow sport for children and adults alike.
Because a mountain holiday wouldn't be a success without a few toboggan runs, an area has been specially created for tobogganing on rubber rings.
Fun descents on the two specially created pistes : a 200 m long easy piste and a more difficult 150m long piste. And so that the whole experience is fun, at the bottom you get back onto your rubber ring on a moving carpet which will take you back up to the top. Comfort, pleasure and fun.
Rendez-vous a few steps from the resort, between La Croisette and Preyerand (free access using the Preyerand cable car).


* All prices are in £ UK. All prices are Sunshine World Ltd's own prices and we reserve the right to change them at any time.

top


Snowpark/Half-pipe
Fun Zone La Becca at the top of the chair lift La Becca (2670m) , 100 m on the right. Naturally rich in snow, sunny (from 11 am) this space offers all technical characteristics required for the installation of courses and modules.
Half-pipe at Les Boyes (Reberty 2000), a technical site dedicated to a peculiar practice. Of course, snowboarders can access to the whole ski area of Les Menuires /Saint Martin and Les 3 Vallees !

top


Walks on Foot or with Snowshoes
Prepared and marked paths allow pedestrians discover the numerous Belleville hamlets and superb countryside.
There are numerous snow shoe walks, supervised or not, offering a unique way to discover the environment.
There is a path totally dedicated to snow shoe walkers linking the top of le Mont de la Chambre to the centre of the resort. Depending on the itinerary chosen, there is a height difference of either 400m or 1000m. Access is free for those who walk on snow shoes in both directions, however the path can also be reached using the cable.

top


Paragliding Flights
Discover the exceptional views and fly over la Vallee des Belleville on an accompanied micro or paragliding flight.

top


Buggy on Snow
This 2000 m² new circuit situated in Preyerand, bellow the Hameau des Marmottes is open every day from 16. to 22.30. Try the new sensation and experience the fun of driving on the snow.

top

Snow Mobil
Every evening after piste closing, on authorized land.

top

Cross-country Skiing
Cross country skiing on the 28kms of marked out pistes in the valley, from Les Menuires down to Saint Martin de Belleville. Access to the pistes is free. Lessons are organised every day by the Ecole du Ski Francais.

top

Ice Rink
Open late afternoon. From 16h30 to 20h30 every day except Saturdays.
Magical fun evenings at the Les Bruyeres ice rink.

top

Cultural Activities
• Concerts (one/week)
• Cultural visites: "Les Chemins du Baroque" Built in the heart of villages or where paths cross, the Baroque churches and chapels are one of the strong elements of Savoyard Patrimony. The Vallee des Belleville has two magnificent Baroque churches : the Saint Martin church and the Notre Dame de la Vie Sanctuary, situated on the side of the road between Saint Martin and Les Menuires.
Every Wednesday from 27th December 2006 to 18th April 2007, there is a guided visit of the Notre Dame de la Vie Sanctuary, a 20 minute walk, followed by a visit of the Saint Martin de Belleville Parish Church.
Duration of the visit: about 3 hours. Possibility of a shuttle bus from Les Menuires.
1 site £5*
Both sites £7*

* All prices are in £ UK. All prices are Sunshine World Ltd's own prices and we reserve the right to change them at any time.

top

Other Activities
• 1 outdoor swimming pool,
• ice rink,
• 2 fitness centres,
• paragliding

top

Sports Centre
Open every day in the morning from 10:00 am to 12:00 am: squash, weight training, aquagym and in the afternoon from 14:00 to 22:00 : all activities.
New: Over 4 500 m² of covered leisure facilities.

top

Sports and Leisure
Multi-activity area for the keenest. Over 12 activities from which to choose: squash, badminton, ping-pong, volleyball, basket ball... and as many tournaments as you like. Fun Park for the young and not so young: trampolines, bouncy castles, plastic ball pool, children's modules... Equipment hire: badminton and squash rackets, ping-pong bats, swimming costumes, towels, sports shoes.

top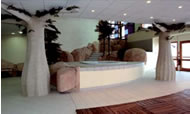 Aquaclub Spa
Relaxation area in an exotic decor. Swimming pool, saunas, hammam, jacuzzi, relaxing solarium area, Turkish showers, aquagym, prenatal and baby swimmer activities... lessons adapted for everyone.

top

Fitness & Well-being
Area with:
1 fitness room 180m²: step, stretching, aerobics, LIA, "tums and bums"... lessons for every level.
• 160m² weight training area with the latest equipment.
• A well-being area for more relaxation: sun beds

top
* All prices are Sunshine World Ltd's own prices and we reserve the right to change them at any time