You will feel better than in your own home! All is made to suit you!
A Living area - under exposed ceiling beams french windows to discuss between friends.
Real logs fire place !
Fully equipped, open kitchen with a large dining table. Sun terrace with deck chairs.
1 in 2 bedrooms with balcony.
En suite bathrooms in each bedroom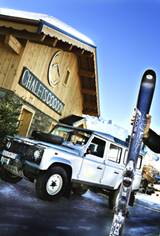 Private ski lockers.
Private parking.
In chalet cocoon: private jaccuzi!
Private transfer available
Services: Each morning you will get your daily delivery of bread, pastries,orange juice, honey and newspapers...!!

Chalets Cocoon (price per chalet in £*)
Type of Chalet

chalet spa 90 m²

chalet cosy 100 m²

chalet spa 130 m²

chalet spa 170 m²

Capacity

8 pers

10 pers

12 pers

16 pers

15/12/2007

22/12/2007

1402,5

1581

2337,5

2533

22/12/2007

29/12/2007

2980

3240

4830

5220

29/12/2007

05/01/2007

2980

3240

4830

5220

05/01/2008

12/01/2008

1402,5

1581

2337,5

2533

12/01/2008

19/01/2008

1881

1917

3069

3285

19/01/2008

26/01/2008

1881

1917

3069

3285

26/01/2008

02/02/2008

1881

1917

3069

3285

02/02/2008

09/02/2008

2980

3240

4830

5220

09/02/2008

16/02/2008

2980

3240

4830

5220

16/02/2008

23/02/2008

2980

3240

4830

5220

23/02/2008

01/03/2008

2980

3240

4830

5220

01/03/2008

08/03/2008

2980

3240

4830

5220

08/03/2008

15/03/2008

1881

1917

3069

3285

15/03/2008

22/03/2008

1881

1917

3069

3285

22/03/2008

29/03/2008

2346,5

2432

3743

4142

29/03/2008

05/04/2008

2346,5

2432

3743

4142

05/04/2008

12/04/2008

2346,5

2432

3743

4142

12/04/2008

19/04/2008

2346,5

2432

3743

4142

19/04/2008

26/04/2008

1402,5

1581

2337,5

2533
* All prices are Sunshine World Ltd's own prices and we reserve the right to change them at any time