On this Page:
Ski Area
Ski Pass
Adventure in Tignes
Relaxing in Tignes
Leisure in Tignes


Copyright Monica Dalmasso

Ski Area


The Formed by the joining of Tignes and Val d'Isere's immense ski areas, the Espace Killy is one of the most beautiful ski areas in the world.

The following figures speak for themselves! The Espace Killy is..
96 ski lifts: 2 funiculars, 4 cabin lifts, 4 cable cars, 45 chairlifts, 41 drag lifts - 10,000 hectares and 300 kilometres of ski trails - 137 ski runs: 22 green, 64 blue, 35 red, 16 black - 9 slalom stadiums and 2 mogul stadiums - 2 half-pipes and 2 snow parks - 331 snow canons.

The Tignes ski area is approximately equivalent in size to that of Val d'Isere. Tignes offers 47 ski lifts: 1 funiculaire, 1 cable car, 24 chairlifts, 19 drag lifts - 5000 hectares and 150 kilometres of ski runs - 67 ski trails: 1 green, 40 blue, 16 red, 10 black - a maximum vertical distance of 1900 metres from the Grande Motte (3450 metres) to Les Brevieres (1550 metres).
The Grande Motte massif
- Tignes Developpement

• The Grande Motte

The Grande Motte massif

Grande Motte is the highest massif in the Espace Killy and is the only part of the ski area to open in every season! Grande Motte is a realm of rock, ice and permanent snow cover. The scenery is grandiose as you look across to the Vanoise National Park to the south, Grande Motte (3656m) and Grande Casse (3852m) to the west, Mont Blanc to the north and Grande Sassiere (3747m) to the east.

• The Palet sector
The Palet massif is directly accessible from Val Claret. Lifts in this sector provide a liaison with Tignes le Lac. The highest points in this massif are the Col des Ves (2840m) and the Col du Palet (2700m).
The Toviere Sector
- Tignes Developpement
• The Toviere Sector
The lifts in this sector provide a liaison with Val d'Isere (Espace Killy). The Toviere sector is accessible from Tignes le Lac or Val Claret. The highest points in this sector are Toviere (2705m) and the Col de Fresse (2580m).
The Brevieres sector
- Copyright Christian Pedrotti

• The Brevieres sector
This massif is situated in the north-western part of the Espace Killy. Sunny from early in the morning onwards, skiers in this sector enjoy magnificent views of the Grande Sassiere (3748m) opposite, the Chevril lake and the Mt Blanc massif. The highest point in this massif is the Aiguille Percee (2748m) a geological oddity worth a picture and a good place for a view of Tignes le Lac.

• More snowsports
The snowpark move : it is now on Palet skilift, and purposes brand new rails rails and jumps for all levels. Beginner and advanced halfpipes remains at the bottom of Grande Motte.
The glisspark is fully shaped : an easy mini boardercross, a parallel slalom, whoops line... all is on Millonex piste, at the bottom of Palafour.

For children (and those with a children's mind), 4 sledges pistes are in free access : in Tignes le Lac in front of the Lagon, in Val Claret above Grande Motte car park, in Lavachet and Brevieres (near Pitots piste)

And MTB is also a snowsport in Tignes! Chlorophyll organise MTB downhill on snow on Toviere slopes.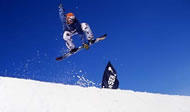 Copyright Monica Dalmasso

• S.P.O.T.
S.P.O.T., the place to be in Tignes
In Tignes you can learn what going off piste is all about.
A new area promoting learning and awareness, the S.P.O.T. is your key to understanding the mountains.

Stage one is an absolute must: the Freeride Chalet and ARVA Training Zone, to chat with mountain professionals, understand how the snow changes over time and practise searching under avalanche conditions, because when you're off piste, being autonomous and acting quickly is essential.

Stage two: the Naturides... ungroomed black runs which change along the with weather conditions... for a foretaste of what it's like!

Stage three: the Softride Zone... You've done your homework in the ARVA TRAINING ZONE, you've listened to advice from the pros, you're equipped for freeride (avalanche transceiver, shovel and probe), you are not on your own, ...and above all you have understood that between you and the mountains it's important to know who's boss... GO!

Stage four: you have put in plenty of practice in the ARVA Training Zone and listened to advice from the pros, you have all the necessary safety equipment and you are an extremely good skier... the hardride zone awaits.

If you're more into kickers, freestyle or fun: 3 other areas are for you.
- the boardercross course: a broad piste consisting of turns, moguls, compression rolls, banks and jumps
- the backcountry freestyle zone: pick up a shovel and build your own area
- the snowpark: a beginners' halfpipe, a halfpipe built to FIS standards, plus loads of rails and jumps



top
Ski Pass
Espace Killy Prices
From 23.12.2006 to 08.05.2007
The whole ski area is open.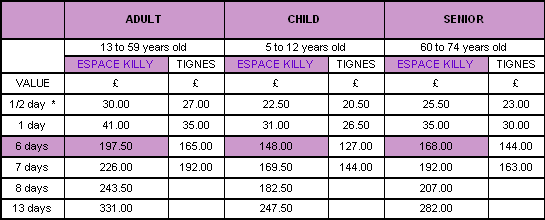 * Half day till the 27/01/07 starts at 12.45 pm - From the 28/01/07 till the 08/05/07 : 13.00 pm



top
Adventure in Tignes
These days, ski resorts are so much more than just about the skiing and Tignes provides activities for non-skiers, the injured as well as for those bad weather days. As well as all that, there are heart-stopping activities for the crazier among you who like your adrenalin in large doses.
• Winter Mountaineering & Ice Climbing
Taste the world of mountaineering with a fun and accessible introduction to ice climbing. No experience is necessary, just a keen desire for adventure! See the fairy tale world of frozen waterfalls and crystals up close, either with spectacular views across the lake to Tignes.
Ice climbing : 2 hours from 60£*
Mountaineering : 1 day from 110£*
Copyright Monica Dalmasso

Flying
Sightseeing flights and mountain aviation courses
Pleasure trip from 100£*

• Ice Driving circuit
Fun Buggies from 10£* ( Monday afternoons only )
Have a go on the ice track with a rally driver from 25£*

• Horse riding & Ski jöring
Let someone else do the work and discover the mountains by horseback.
Horse riding, 1 hour : 28£*
Pony ride on a lead, 20 minutes : 8£*
Ski jöring : trips from 32£*

• Helicopter flights
A real once in a lifetime experience! Hover around the Espace Killy or a tour around the olympic resorts in a helicopter, marvelling at the wonderful scenery beneath you.
Taster flight (5minutes) from 30£*
Upper Tarentaise flight (15minutes) : 90£*

• Heliskiing
2 drop offs in Italy from 240£*
Pick up at the Lac du Chevril from 70£*

• Karting on ice
Copyright Monica Dalmasso

• Snowmobiling
Hold on tight for a high speed adventure that will make the mundane drive to work seem like a far off dream!
Trips from 44£* 44 for the driver and 18£* for the passenger

• Paragliding
Tandem flighs from 70£*

• Ice skating
Natural Ice rink on Lake Tignes with a 500m skating circuit
Skate hire from 2£* (children) and 3£* (adults)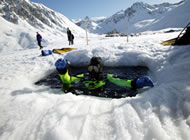 Copyright Monica Dalmasso

• Ice diving
Explore the underwater world of the lake at Tignes and go for a half hour ice dive! No diving experience necessary and dry full dry suit supplied.

1 dive from 70£*

• Snowshoeing
1 half day from 27£*

• Heli-snowshoeing trip (4hrs) from 75£*
Copyright Pascal Lebeau

• Dog sledding
Trips from 45£*


Relaxing in Tignes
Aquatic center "Le Lagon"
• Opened on 18th June 2006, this brand new aqua centre in the heart of Tignes is made up of 3 sections dedicated to your well-being: a fitness area, a wellness area and the swimming pools, and not forgetting the water slides, which have already proved everyone's favourite at Le Lagon!
• Le Lagon is Tignes' fabulous well-being facility, ideal for apres-ski on your own or with the family!
• 6 000 m2 right in the heart of the resort, on the lakeside at 2100 m.
• 6 000 m2 dedicated to fun in the water, sport, games, well-being and relaxation.
• 6 000 m2 of facilities for top sportsmen and women, holidaymakers, young, old, water nymphs and aquanauts of all kinds!
So this winter in Tignes take the plunge!
The aim: well-being, health and fitness...and lots of fun!
• A 25-metre swimming pool.
• A fun pool with swimming against the current, a bubble bed, a whirlpool seat, a geyser, a waterfall feature... and a waterslide construction with three 30m slides: huge laughs guaranteed! Ideal for apres-ski with the family!
• A paddling pool for introducing tiny tots to the joys of swimming.
• A wellness centre with 1 Turkish bath, 3 saunas, 4 jacuzzis and 8 differentshower types including the rain shower,. the invigorating shower, the massage shower, the upper body shower, the lower body shower, the mist shower, the neck shower and the old-fashioned bucket shower.
• A health centre with a fitness suite and a weights room. The very latest fitness apparatus first used by some very special guests in May 2006 : the French national football squad... Zidane was here!
• Plus instructor sessions for biking, aqua fitness and aqua cardio training, flipper exercises and also introductory scuba diving sessions
Le Lagon prices : making a splash
• Complete program, 1h30 Balneotherapy + 60 min health and fitness (fitness centre, weight training) +use of swimming pool, from £17*/day and £60*/week
• Balneotherapy program, 1h30 balneotherapy + use of swimming pool from £13*/day and £45*/week
• Swimming pool admission from £3.50* per day for children* and £4.50* per day for adults or £15* per week for children* and £20* per week for adults
* children aged 5 to 12 qualify for the child price. Free admission for under 5s
Vitatignes
• Sauna, Turkish bath, spa : from £15*
• Admission to the Bains du Montana (spa, balneotherapy, sauna, Turkish bath, jacuzzi, body treatments, facials) from £20*
• Altitude Spas (massages and stimulating hydro-jets baths, sauna, Turkish bath) from £25*
• Centre Spas et beaute (balneotherapy, swimming, weight training, sauna, Turkish bath) from £25*



top

Leisure in Tignes



The Ice Museum
• Considered to be the ultimate record of the past by climatologists and paleontologists alike, glaciers reveal the earth's climatic history: the further we penetrate the older the ice and the greater the discoveries to be made.
Prices for the Ice Grotto :
Adults : £4*
Child : £3*
Prices indicated do not include ski lift transport costs (two-way ticket + visit available).
Located at an altitude of 3000 metres on the Grande Motte glacier, a 200 metres long gallery has been hollowed out beneath the surface of the ice.
• Discover human evolution immortalized in ice...
• A translucent dinosaur, prehistoric man...
• And not to be missed... a 6 metre high, 10 metre wide mammoth made of ice weighing more than 6 tons.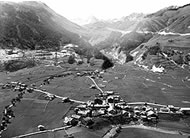 Heritage Center
• Museum
• The 'Heart of Tignes' heritage centre in La Maison de Tignes le Lac
• Seven centuries of history in photographs, artefacts and recorded accounts. 400m? organised into two displays:
• Discovery section and Recordings section
• Panoramic screen
• Video glasses
• Interactive models
• Video and audio recordings
• Heritage collection

Open daily from 4 to 7 p.m. and from 2 p.m. to 7 p.m. in bad weather.
Closed on saturdays.
Admission free.
Documentary films shown daily at 6 p.m. Discovery game for children from age 10.
Bowling
• 1 game from £9* (includes shoe hire)
Bridge
• 1 game from £5*
Yoga in the mountains
• 1 group session from £10*
• 1 hour private session from £75*
Tignes Multimedia
• Situated on the mezzanine at La Maison de Tignes le Lac, the Tignes Multimedia center is the place to go to find out what's new in computing. 30 minutes : £3.70*
Sport centre
• Team sports : basketball, football, volleyball and tennis from 2 to 9.30 p.m.
• Climbing wall : practice on the indoor climbing wall at Tignespace.
• Yoga classes
• Squash - 2 squash courts at the Fitness Centre - 1 game (30minutes) from £7* per person
Tignes Cable TV
• For an evening, a week or a month, Tignes Cable TV offers 26 national and international channels.
• And find all resort news on Tignes TV Cable local channel






top
* All prices are Sunshine World Ltd's own prices and we reserve the right to change them at any time