Montagnette's spirit - at foot of the slopes, a spacious chalet designed for your whole family and your friends in warm, comfortably and elegantly decorated surroundings.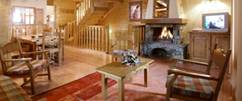 Built as a real little mountain hamlet with no traffic, the chalets and apartments are designed for large families or groups of friends.
Comfort, independence, peace and a traditional setting are the key words when describing a stay at the Montagnettes 3 Vallees.
Situated in a little valley, on the edge of a pine forest and right next to the slopes, the Residences offers you all the facilities you need.
Les Montagnettes (price per chalet in UK £*)
| | | | | | | | |
| --- | --- | --- | --- | --- | --- | --- | --- |
| | 2/4 pers | 4 pers | 6/8 pers | 8 pers with saunas | 10 pers | 10/12 pers | 12 pers |
| 22/12/2007 | 705,00 £ | 940,00 £ | 1 269,00 £ | 1 861,20 £ | 2 068,00 £ | 2 002,20 £ | 2 246,60 £ |
| 29/12/2007 | 1 150,00 £ | 1 550,00 £ | 2 100,00 £ | 3 080,00 £ | 3 550,00 £ | 3 350,00 £ | 3 700,00 £ |
| 05/01/2007 | 1 250,00 £ | 1 680,00 £ | 2 300,00 £ | 3 350,00 £ | 3 960,00 £ | 3 730,00 £ | 4 000,00 £ |
| 12/01/2008 | 705,00 £ | 940,00 £ | 1 269,00 £ | 1 861,20 £ | 2 068,00 £ | 2 002,20 £ | 2 246,60 £ |
| 19/01/2008 | 705,00 £ | 940,00 £ | 1 269,00 £ | 1 861,20 £ | 2 068,00 £ | 2 002,20 £ | 2 246,60 £ |
| 26/01/2008 | 705,00 £ | 940,00 £ | 1 269,00 £ | 1 861,20 £ | 2 068,00 £ | 2 002,20 £ | 2 246,60 £ |
| 02/02/2008 | 770,80 £ | 1 034,00 £ | 1 391,20 £ | 2 049,20 £ | 2 227,80 £ | 2 162,00 £ | 2 378,20 £ |
| 09/02/2008 | 900,00 £ | 1 210,00 £ | 1 630,00 £ | 2 390,00 £ | 2 620,00 £ | 2 550,00 £ | 2 750,00 £ |
| 16/02/2008 | 1 150,00 £ | 1 550,00 £ | 2 100,00 £ | 3 080,00 £ | 3 550,00 £ | 3 350,00 £ | 3 700,00 £ |
| 23/02/2008 | 1 250,00 £ | 1 680,00 £ | 2 300,00 £ | 3 350,00 £ | 3 960,00 £ | 3 730,00 £ | 4 000,00 £ |
| 01/03/2008 | 1 250,00 £ | 1 680,00 £ | 2 300,00 £ | 3 350,00 £ | 3 960,00 £ | 3 730,00 £ | 4 000,00 £ |
| 08/03/2008 | 1 030,00 £ | 1 380,00 £ | 1 830,00 £ | 2 750,00 £ | 3 100,00 £ | 2 850,00 £ | 3 100,00 £ |
| 15/03/2008 | 968,20 £ | 1 297,20 £ | 1 720,20 £ | 2 585,00 £ | 2 810,60 £ | 2 679,00 £ | 2 914,00 £ |
| 22/03/2008 | 968,20 £ | 1 297,20 £ | 1 720,20 £ | 2 585,00 £ | 2 810,60 £ | 2 679,00 £ | 2 914,00 £ |
| 29/03/2008 | 1 030,00 £ | 1 380,00 £ | 1 830,00 £ | 2 750,00 £ | 3 100,00 £ | 2 850,00 £ | 3 100,00 £ |
| 05/04/2008 | 770,80 £ | 1 034,00 £ | 1 391,20 £ | 2 049,20 £ | 2 227,80 £ | 2 162,00 £ | 2 378,20 £ |
| 12/04/2008 | 705,00 £ | 940,00 £ | 1 269,00 £ | 1 861,20 £ | 2 068,00 £ | 2 002,20 £ | 2 246,60 £ |
| 19/04/2008 | 705,00 £ | 940,00 £ | 1 269,00 £ | 1 861,20 £ | 2 068,00 £ | 2 002,20 £ | 2 246,60 £ |
| 26/04/2008 | 705,00 £ | 940,00 £ | 1 269,00 £ | 1 861,20 £ | 2 068,00 £ | 2 002,20 £ | 2 246,60 £ |
* All prices are Sunshine World Ltd's own prices and we reserve the right to change them at any time