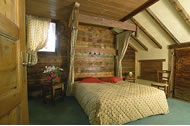 Located right at the entrance of the ski resort, the Hotel LE MENUIRE is a traditional building, a dynamic place, family owned.
A professional team provides you a warm and efficient welcome. We all have the same aim: to make the stay of our guests, a marvelous souvenir!
Only 200 m away from LA CROISETTE, the shopping and animation center of the resort, you can find all you need during your holiday : bank, post office, shops, Sports centre of Les Menuires, cinema, ice-skiing, medical center, ski-school...
Rooms:
41 bedrooms, spacious and cosy, with bathroom, separate wc, satellite TV, telephone and balcony over-looking the valley.
In the restaurant, let discover the authentic flavour of talented cooking, from traditional Savoy cuisine to rich, French gastronomy.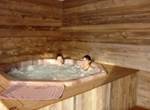 Spa area:
Free access to the spa area with sauna, Jacuzzi and mini fitness.


Tarifs SW Le Menuire in £*

Road side

Valley/mountain side

double

3rd or 4th pers

double

3rd or 4th pers

15/12/2007

22/12/2007

399 £

319 £

434 £

347 £

22/12/2007

29/12/2007

665 £

532 £

735 £

588 £

29/12/2007

05/01/2008

560 £

448 £

616 £

493 £

05/01/2008

12/01/2008

498 £

399 £

548 £

438 £

12/01/2008

19/01/2008

498 £

399 £

548 £

438 £

19/01/2008

26/01/2008

547 £

438 £

599 £

453 £

26/01/2008

02/02/2008

547 £

438 £

599 £

479 £

02/02/2008

09/02/2008

547 £

438 £

599 £

479 £

09/02/2008

16/02/2008

625 £

500 £

691 £

553 £

16/02/2008

23/02/2008

625 £

500 £

691 £

553 £

23/02/2008

01/03/2008

625 £

500 £

691 £

553 £

01/03/2008

08/03/2008

625 £

500 £

691 £

553 £

08/03/2008

15/03/2008

547 £

438 £

599 £

479 £

15/03/2008

22/03/2008

515 £

412 £

567 £

453 £

22/03/2008

29/03/2008

515 £

412 £

567 £

453 £

29/03/2008

05/04/2008

417 £

334 £

455 £

364 £

05/04/2008

12/04/2008

389 £

311 £

424 £

339 £

12/04/2008

19/04/2008

399 £

318 £

434 £

347 £
* All prices are Sunshine World Ltd's own prices and we reserve the right to change them at any time