In the heart of Chamonix at the foot of Mont-Blanc, this three star hotel has a wonderful and sportive atmosphere where comfort and mountain traditions mix well.
Built in 1890, it is one of the historic buildings in the valley and remains one of the most preferred meeting points for guests from all over the world
This inviting hotel is full of old world charm where you can feel the heart and pulse of Chamonix all year round. Globetrotters, adventurers, ski bums and locals consider it as one of the best spots in town.
Cosy nights

All rooms are personalised and most of them offers a view over the massive of Mont-Blanc or the Aiguilles Rouges. There is one suite as well as two mini-suites. Very cosy! They all have satellite TV and direct telephone lines with Internet connections.


Warm welcoming

The reception is open 24hours a day and we speak English, French, Swedish, Italian and German. One of our greatest services are our guides and ski-instructors from "Ski Sensations" who are there to advise you and help you organise your activities.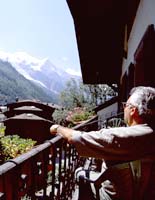 Central location

Just around the corner there are cinemas, nightclubs, a museum, the Guide office, shops etc. No more than three minutes away!
To reach the other hamlets in the valley, you can take the charming little train that stops right in front of your hotel. To reach the ski areas it is also easy, the ski-bus stops outside the entrance, no charge!
International
Geneva airport is an hour away by car and Italy is only 15 min drive through the Mont-Blanc tunnel. In two hours drive you have Satolas the airport in Lyon. You can also get to "Le Valais" (Switzerland) by the "Col des Montets" and enjoy the beautiful scenery for 45 min.
Fill up with energy at breakfast
The breakfast is prepared for all kinds of tastes and takes into consideration particularly sportive needs.
Feel the Chamonix mood at the coffee break
Some of Chamonix personalities have made it a habit to come and take their morning coffee, read the paper or comment on the local life at the hotel bar. It's nice to mingle! Join us!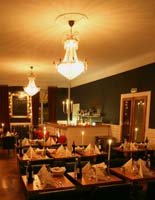 Lunch at Chambre 9
In a mountain atmosphere the Brasserie Chambre 9 offers you classic international cooking and local specialities. It's a favourite meeting-point for many locals! In the summer, the shady terrace is tempting for a long relaxing lunch.
Happy hours
All afternoon, from after skiing until aperitif hour, Chambre 9 receives you for a tea, a beer or maybe a hot wine. In this convivial french bar of exchanges, the tourists, the alpinists and "extreme skiers" meet to talk about and prepare their days in altitude.
Dining? Chic or relaxed
In this calm and refined setting, our restaurant proposes elegant cooking without forgetting the chef's touch.
Music bar!
After dinner, Chambre 9 becomes one of the most well known evening-bars in the town. Ambience assured!
* All prices are Sunshine World Ltd's own prices and we reserve the right to change them at any time