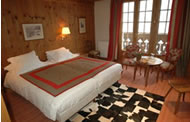 You will appreciate an atmosphere of calm, serenity and luxury.
The "Hotel du Bois Prin" has mixed traditional and contemporary style and has created a welcoming atmosphere.
Rooms:
Most rooms have a private terrace with a view of Mont Blanc.
Possibilities of 1 to guests in their apartments
King-sized bed
Mini bar
Direct dial phone
Satellite television
Room service
Special services for children
WC separated from bathroom
220V electrical outlet
Restaurant:
Denis Carrier bustles from the garden to the kitchens, busy growing both flowers and vegetable. Flowers to embellish guest tables and home-grown vegetable to include in original, delicious recipes with just the right flavor. It's all part of a natural, festive, good-humored atmosphere to which the entire Bois Prin team all contribute unsparingly.
* All prices are Sunshine World Ltd's own prices and we reserve the right to change them at any time