Welcome to Hameau Albert 1er:
It is a luxurious hotel, a gastronomic restaurant, a Soli Chalet, a farmhouse, a restaurant, a health and well being center.... A paradise next to the center of Chamonix.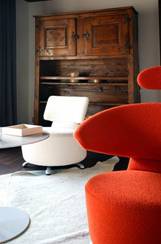 Rooms:
21 rooms and large rooms up to 55 sq m. 15 have been renovated during the winter 2004, offering a high level of comfort with balneo-bath, air conditioning, fire place in a wooden cosy atmosphere. Noble and authentic material and contemporary furniture tend to show the mountain identity of the Hameau Albert 1er.
The Hameau Albert 1er propose Two different restaurants:
The Albert 1er gastronomic restaurant:
Let yourself drift away with the wisely mingled flavours and subtile savours of seasonal produce prepared by Pierre Carrier and his son-in-law Pierre Mailet, in traditional surroundings.
"L'art de la table" in all its glory and creativity. The extensive wine cellar with over 20000 bottles offers you a selection of the very best wines.
La Maison Carrier:
In a cosy, traditional restaurant with delicious smell of cooking wafting from the kitchen as in days gone by, discover a authentic cuisine produce with finesse and inspiration. A place where past meet present, in the decor of a rebuilt, time-honored farmhouse, the fruit of our fondness for the region and its specialities. In summer, the terrace add yet another pleasure to eating out, with a view on the Mont-Blanc.
Well-being:
The indoor and outdoor swimming pools, reserved only for the clients of the hotel, is open all the year round. "Le Bachal" however, is open to everyone and offers a complete program of health and fitness treatments adapted to every requirement.
* All prices are Sunshine World Ltd's own prices and we reserve the right to change them at any time