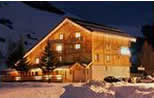 The Cote Brune Hotel came up as a two star family run hotel. It had some key attributes for a family. Firstly it is extremely close to the ski school meeting point and the Jandri Express. For anyone who hates a moaning child at the end of a day's skiing, this is important. It's also sufficiently close to the slopes to guarantee skiing right to the front door most of the season.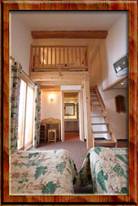 At the end of a skiing exertions there is a clean and warm place to store skis and boots securely right as you enter the hotel so that they are ready the next morning. Gone are the days of damp boots from yesterday's efforts.
There is ample parking if you are going to drive to the ski resort. By the same token it is not far from the centre of the resort so if you are arriving by bus from Grenoble airport or Grenoble train station it is easy walking distance.
The rooms are comfortable and very warm and the family rooms have very good washing facilities. They are cheerfully decorated in an Alpine style.
Breakfast is standard continental fare. But it is plentiful and quick. The service is always cheerful and friendly. You will never miss a start at ski school for the children and you will never need refuelling before lunchtime. In fact lunchtime can be spent on the sundeck at the hotel which is a great spot that many other people in the resort use during the day. Of course staying at the hotel means you can slip back to the room whilst waiting for lunch to be served. A full board option is not available but it amounts to the same thing. This gives you the flexibility of eating elsewhere or staying on the mountain for lunch.
This year the Hotel Cote Brune has introduced a half-board arrangement in the hotel itself. In past few years you had to travel to its sister restaurant. The evening meal was always enjoyable and we never felt any inclination to eat elsewhere.
Temporary prices*

Prix de la chambre/jour

Promotion
Du 24/06/07
au 12/07/07
Du 20/08/07
au 01/09/07

Saison
Du 15/06/07
au 24/06/07
Du 13/07/07
au 08/08/07

Haute saison
Du 04/08/07
au 19/08/07

For 1 person

£39

£51

£61

For 2 persons

£55

£75

£90

For 3 persons

£85

£105

£128

For 4 persons

£95

£129

£164
* All prices are Sunshine World Ltd's own prices and we reserve the right to change them at any time